Our Mission Statement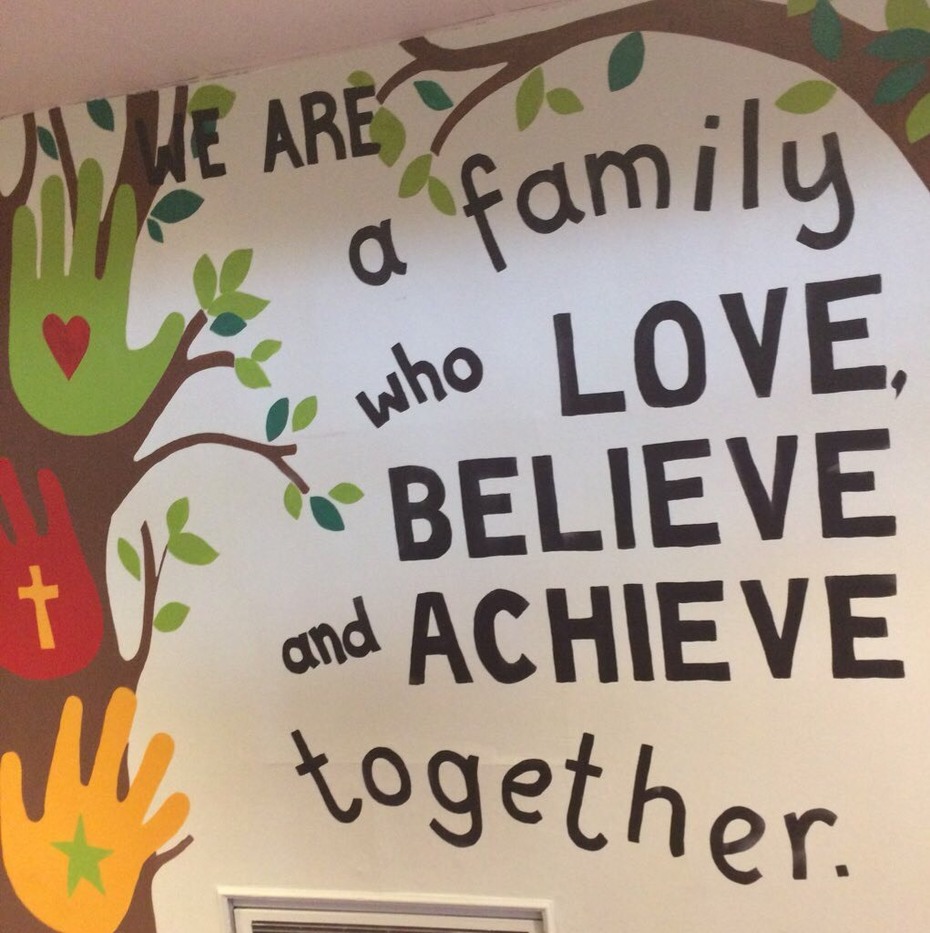 'WE ARE A FAMILY WHO LOVE, BELIEVE AND ACHIEVE TOGETHER.'
This is written large in the lovely piece of artwork in our entrance area. Any visitors to our school immediately have a striking image of what we are about through this Mission Statement which staff, pupils, parents, parishioners and governors all contributed towards.
However, it is more than just words on a wall because as you walk around our school, you will see this Mission Statement brought to life within our close-knit family.
You will see the LOVE and care which influences how we treat each other; how the close ties to our Parish ensure we BELIEVE strongly together in our Faith; while the hard work of staff and pupils, along with the support of parents, means we strive to ACHIEVE together.
Our Mission Statement is also underpinned by our four core values:
AMBITION
A strong desire to do or achieve something


KINDNESS
Behaving in a way towards others that is friendly, caring and considerate


TEAMWORK
Working together to support each other, combining individual strengths to achieve a shared goal

RESPECT
Giving due consideration to the feelings, wishes or rights of others


Our values are also reflected in our school prayer -
'As the family of St Margaret Ward, we ask for your blessing on our school. Guide us dear Lord as we strive to love one another as you have loved us. Help us to do all things with kindness and respect as we work together to achieve our ambitions. Amen.'

We wanted to make sure our values are lived out in the behaviours seen around school every day from staff, pupils and parents. Pupils contributed to the large mural (below) in our school hall, listing some of those kind, respectful and ambitious behaviours that we act out together.
OUR SCHOOL PRAYER WHICH REFLECTS OUR SCHOOL VALUES OF AMBITION, KINDNESS, TEAMWORK AND RESPECT
OUR SCHOOL VALUES ON DISPLAY IN SCHOOL ARE DECORATED WITH WORK FROM OUR CHILDREN'S BOOKS THAT HAS BEEN PHOTOCOPIED ONTO COLOURED PAPER.